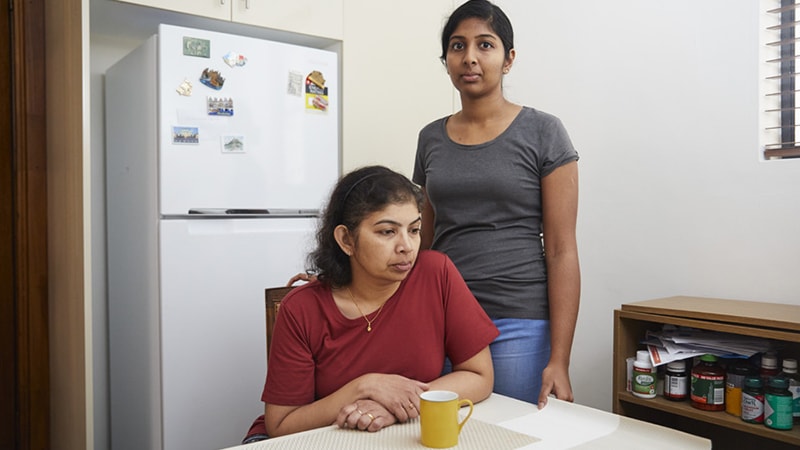 If you or a child are in immediate danger, call 000.
What is domestic and family violence?
Domestic violence is violence that happens in a relationship. It can be physical, but also takes many other forms. Domestic violence affects everyone around it, whether they experience it directly or witness the violence or signs of violence.
Domestic and family violence:
happens when one person in a relationship hurts another or makes them feel unsafe

has a pattern of control, where ongoing abuse stops someone from feeling free to live life as they choose

is not just physical – it

can also be

emotional

,

financial

,

spiritual

,

social

,

legal

,

reproductive

, and can include

stalking

and

neglect

can happen in any kind of relationship — not just with partners, husbands and wives or boyfriends and girlfriends (intimate partners)

can happen in any location, not just the home
How might a teenager experience domestic violence?
There are many ways a teenager can experience violence. They may experience it themselves, witness it happening to someone close to them or see it in the community. They may have a friend confide in them about experiences of violence at home.
A teenager will be impacted by violence if they:
experience violence and abuse themselves

witness violence or its consequences (injuries, distress, damaged property)

hear about someone's experience of violence

play the role of carer, protector or supporter of someone impacted by violence

live in a violent home or are regularly in a violent environment
What is the impact of domestic violence on teenagers?
Even when they are not experiencing violence directly, exposure to violence puts teenagers at risk. They may engage in risk-taking or self-medicating behaviour, this is often to block out bad memories or numb emotional pain. Trying to stay away from the home may put them in unsafe situations. Having to take on adult responsibilities for themselves or younger family members can create emotional and psychological burdens.
A teenager may respond to these impacts of violence by experiencing:
anger, aggression and lashing out

trouble sleeping, nightmares, bed wetting and chronic tiredness

anxiety, depression and panic

alcohol or drug misuse

self-harming behaviour

difficulties with school and disengaging from school

avoidance of social situations or avoiding home
What can I do to support a teenager who has been exposed to violence?
The best thing you can do is provide them with a positive adult-teenager relationship. Be an open and unconditional listener, allow them to participate in seeking professional support and making safety plans. Find ways to create opportunities for positive and trusting relationships.
Other things you can do include:
ask how they are feeling, focus on listening and let them know that you are fully there for them

let them know there are support options available to them

don't speak negatively of abusive family members, but let them know that violence and abuse is never okay

with their input, seek professional advice and support

model positive relationships by being respectful and not aggressive when interacting with others

help them get involved in things that they enjoy and that boost self-esteem and mental wellbeing, such as hobbies, sports, and regular exercise

where possible keep them safe from violence
You can find some resources to help you through this on our Things to Try page.
Supporting someone impacted by violence can be upsetting. Know that you don't have to do it on your own. You can call 1800RESPECT on 1800 737 732 for information, counselling and referral. Remember that you are better able to support when you feel supported yourself.