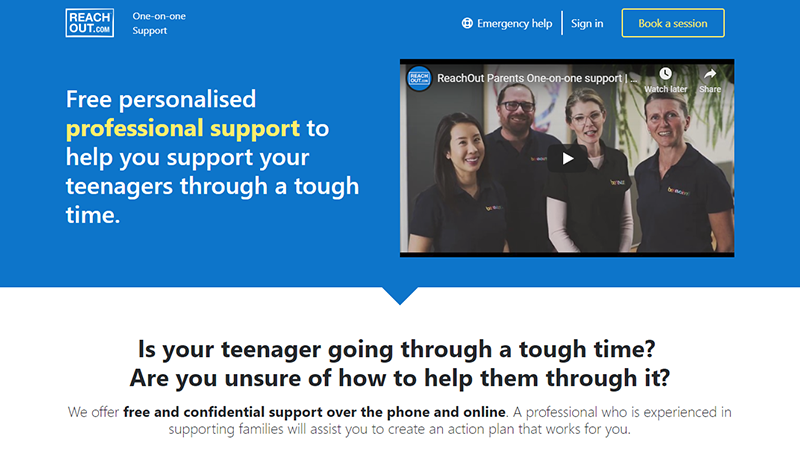 We all know there's no 'one size fits all' parenting manual, but if you need a hand guiding your teenager through a difficult time, we can help. ReachOut Parents One-on-One Support is a service for parents of 12 to 18-year-olds.
Over the phone and online, this free award-winning program includes up to four sessions with a professional experienced in supporting families, and is used by thousands of parents and carers around Australia.

What does ReachOut Parents One-on-One Support involve?
A collaboration between ReachOut Australia and The Benevolent Society, One-on-One Support helps parents and carers build skills and confidence. Our skilled family professionals will work with you to find effective parenting tools and strategies to suit your child's particular needs and your unique family situation. You will be supported to:
clarify your goals
find solutions
make a plan to move forward
put it into practice.
Parents who have used One-on-One Support report feeling more confident, encouraged and supported around their parenting goals and experiences.
Why would I use the program?
We can support you through a range of concerns:
Your teenager is going through a tough time and you are unsure of how to help them through it.
You're worried about the relationship you have with your teenager.
You want to better understand and communicate with your teenager.
Your teenager has stopped confiding in or being open with you.
Your teenager has become moody and irritable.
Your teenager has been having difficulties with school, such as low attendance, study stress or peer pressure.
Your teenager is spending more time online than usual, especially on social media.
You are looking for support at a time that works for you.
New ways to look at parenting: Sharon and Kayla's story
Sharon's daughter Kayla had been deliberately left out by her friends online. Wanting to be included, Kayla was spending a lot of time online, trying to reconnect with her peers. This had an impact on her self-esteem and wellbeing, and caused conflict between Sharon and Kayla.
Our family professional encouraged Sharon to focus on what she could control. Rather than banning Kayla from using the internet, she was encouraged to think about a positive solution that was focused on Kayla's wellbeing.
Sharon helped her daughter re-engage with a sport she had previously enjoyed. As a result, Kayla formed new friendships, and became less interested in what her old friends were doing.
How do I sign up?
Just click on the 'Get started!' button below to see if you're eligible, and off you go.

Remember, all support sessions are free, confidential and done with a professional from The Benevolent Society. You don't have to commit to all four sessions straight away and you can stop at any time.
Not sure whether ReachOut Parents One-on-One Support suits your needs? Try this quiz to find out what type of help is the best fit for you.
Are you after some help coping with the COVID-19 pandemic? Click here.
Did you get what you needed?