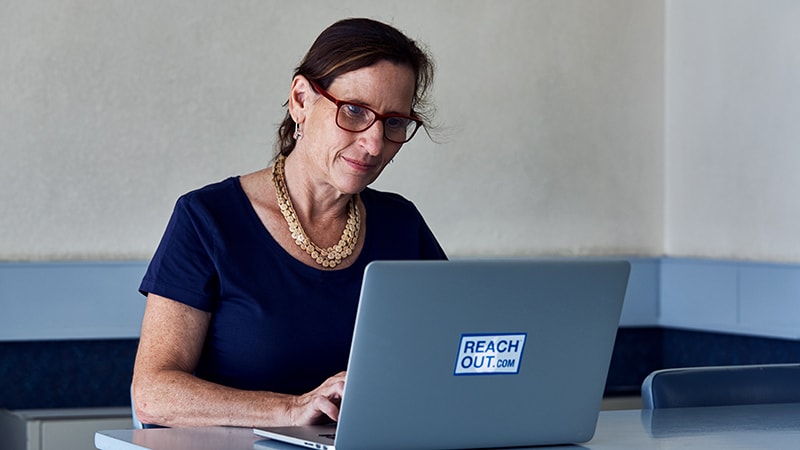 We know that parenting at any stage is a juggling act. Between work, school, sport and social commitments, it can feel like there isn't a spare minute in the day. Parenting teenagers can add another layer to your already full load as you learn how to communicate with your teen and encourage their independence while still keeping them safe. With all these challenges, it can be hard to find the time to seek help and support when you need it.
Online communities are a great way to access guidance, advice and encouragement from the comfort of your home. Anonymous, private and readily available communities like the ReachOut Parents Forum foster mutually supportive relationships. They give you a safe space to share what's going on with you, or to offer an understanding ear to someone else who is in need of support.
We've put together this guide to give you an idea of what to expect, and info on how you can get involved with online peer support for mental health.
A place to connect with other parents
The ReachOut Parents Forum is a place to connect online with other parents of 12-18 year olds who understand all about life with a teenager.
You can seek support and advice on any challenges you're facing with your teen; and you can share your experiences as a parent with other people who might be going through a tough time. If you're tackling a particular issue or challenge with your teen, no one understands that quite like another parent. The other members of the forum are a treasure trove of experience and advice that you can draw on.
The forums operate much like Facebook groups - with one very important difference. Our forums are completely anonymous and private. You will only be known to other users by the unique username you create when you sign up. It will be impossible to identify you in the real world and there is no way for other users to contact you outside the forum. We understand that anonymity and privacy are important when discussing matters sensitive to your family and we take our commitment to this very seriously.
No issue is too big or too small
You might be surprised by the range of topics covered in our parents' forum – there really is no issue too big or too small.
These are some of the issues parents are talking about.
Bullying
Stress
Technology
Communication
Anxiety
Depression
School
Suicide
Friendships
Relationships
Family conflict
The many benefits of online support
There are many benefits of being part of an online support community.
Being part of a group of parents and carers who understand you can reduce feelings of isolation and loneliness. The flow-on effect of this is that you feel more confident, empowered and positive, and ready to tackle whatever comes your way.
You'll find advice and strategies that have been tried and tested by other parents.
Groups like our parents' forum are accessible from your phone or laptop, whether you're at home, at work or on the go, whenever you need them.
You can remain anonymous, protecting your privacy while receiving support and advice related to your specific situation.
Here's what some of our forum members have said:
'Thank you so much, the replies really help! So great to know I am not alone.'
'Reading other people's stories is so helpful to know how they handled things in similar situations.'
'ReachOut Parents Forum is a great place to talk with other parents, it also has so many resources! It is a safe place to connect with other parents who are supporting their teenagers.'
'The challenges of parenting can be so hard, sharing stories can give others hope to continue. Keep going, it gets better.'
Share your journey to support others in need
The beauty of online groups like our parents' forum is that it's never just a one-sided relationship – you can also give support to other members. It's not about being an expert; it's about sharing experiences you've had as a parent, how you felt and what worked for you. Simply hearing from people who've had similar experiences helps other parents and carers to feel supported and understood, and less alone.
According to My Peer, helping others in this way has benefits for those offering guidance as well. You can expect to feel more confident in your ability to cope with your own parenting issues, which increases your self-esteem. Knowing that you've helped to alleviate someone else's concerns will also make you feel more positive about your impact on the world.
Ready to jump into the ReachOut Parents Forum? Here's your step-by-step guide.
Head to this link and click 'Register' in the top right corner.




Fill in the sign-up form. (You can leave your name out if you wish to remain anonymous.) You're also given the opportunity to create a unique username, which is how other people in the forum will identify you in posts or comments. This can be whatever you want it to be and doesn't need to make sense to anyone but you.




You'll receive an email asking you to confirm your account. Hit the link, login and you're on your way!
Take some time to get to know how the forum works. Start by checking out the community guidelines, reading posts from other members, and browsing the topics available under the 'Common Concerns' or 'Skills to Build' headings at the top.
When you're ready to post, head to the 'Start a topic' box and fill in what you're thinking or worrying about. You can also use the 'Ask a young person' form to submit a question that will be answered by one of ReachOut's young people to give you the insight of someone of a similar age to your kids.
Be sure to interact with posts by other parents, too. You never know how valuable your advice might be to someone else.
Are you after some help coping with the COVID-19 pandemic? Click here.
Did you find what you needed?