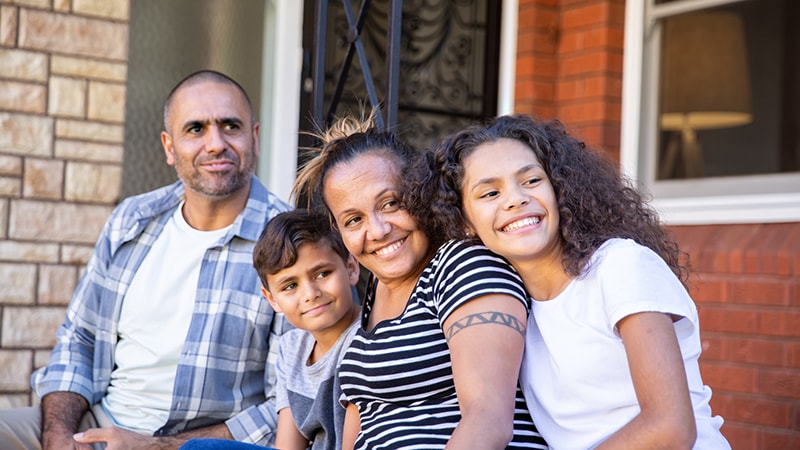 This can help if
the idea of 'celebrating' January 26 doesn't feel great, for you or your teenager.

your teenager is wondering what the big deal is about January 26.

you want a different way to mark January 26 with your teenager.

January 26 is currently observed as 'Australia Day,' in memory of the day the First Fleet sailed into Port Jackson (now Sydney) in 1788. It's a distressing day for some people, as it also marks the loss of Aboriginal and Torres Strait Islander land and culture.
It's likely that you and your teenager have seen some media coverage surrounding the day. Every year, the conversation around changing the date grows, and many public figures have spoken out about it. A lot of people are saying that we should still celebrate Australia Day, but on a less hurtful and controversial date.
Here are some ways you and your teenager can get up to speed on the issue and mark the day.
Learn more about Aboriginal and Torres Strait Islander history
Check out this timeline of events from 16,000 BCE to 2017. You can also review some of the developments around the day on an Aboriginal history timeline here. Just use the search bar and get educated.
Each community around Australia also has a rich history. Check out your local library or council to learn about Aboriginal and Torres Strait Islander history in your area.
Attend or volunteer at an Aboriginal and Torres Strait Islander festival
We've found a great guide to what's going on across Australia – from festivals celebrating Aboriginal and Torres Strait Islander culture, to protest marches and open discussion forums. Use the day to celebrate and recognise Aboriginal and Torres Strait Islander cultures in Australia. This year, the Yabun festival will be an online event. Watch this video from last year, where we spoke to attendees about celebrating the strengths and community of culture.
If your teenager isn't keen to go with you, suggest they get a group of friends together and attend one of the events.
Start a conversation with your teenager on the topic
One of the best things you can do is just to chat with your teen about the day, and to try and understand what it means to them. Ask them how they feel about the day. If they're going okay, you could still have an interesting discussion about what it means to be Australian.
Get some tips on yarning with your teen here.
Suggest some activities you could do together
With the long weekend, it's a great opportunity to spend some quality time together and connect to Aboriginal and Torres Strait Islander culture. Here are a few ideas:
Watch one of the many Indigenous TV shows or movies on offer, such as Black Comedy, Samson and Delilah, Radiance and Jasper Jones. All of these and more are showing on NITV this week. Check out the program guide and prepare the popcorn.
Explore your teen's creative side if an art gallery near you is having an an Aboriginal and Torres Strait Islander exhibition. Large libraries often have exhibitions, too.
Many bush and coastal walks have a rich Aboriginal history, so you can get out in nature and connect with culture at the same time. Check out your state's national park website for info before heading out. - you could even play guide if you print out the info in advance!
Switch off from social media
If the debate is getting too much for your teen, let them know it's okay just to switch off. Assure them that they won't be missing too much if they go offline for a day or two. You could join them in this and switch off your social media, too.
Did you get what you needed?