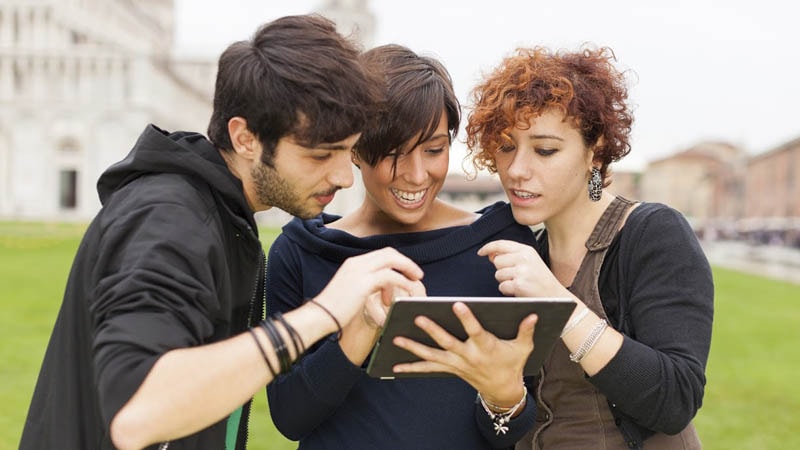 - Written by Jono Nicholas, CEO of ReachOut
One of the first things I taught my kids was looking both ways before crossing the road. It is a necessary lesson to stay safe in the physical world. With my kids spending an increasing amount of time online, I now need to teach them the skills to stay safe in the digital world. So, how do we keep our kids safe online and what can we do when something goes wrong?
Firstly, stay up-to-date with the devices, sites and apps your kids use. Many have in-built safety mechanisms that when turned on, make going online a far safer experience. If you don't know how to turn on the safety mechanisms, watch one of the many how-to-videos. In addition, if your kids are young, do a regular sweep of the sites they visit and supervise what they watch.
As your kids grow up they will increasingly want to use social media and mobiles to stay connected with their friends. Having clear rules about how old kids need to be before they own a device or can access certain sites is important. In my view, kids shouldn't be on social media before the age of 12 and should only have a mobile device if you are confident they can use it safely.
Prior to having a social media account or their own mobile, you need to ensure that your teenager is aware of the consequences of using technology inappropriately. The fact is that actions in the digital world can have real-world consequences, including legal ones. Often, they are poorly understood by teenagers with many believing that behaving badly online is no big deal.
We also need to teach our kids about risks online. If your kids are young, teach them about stranger danger and to alert you if they feel unsafe. If your teenager is being cyberbullied and you need to have content taken down, you can contact the social media platform or the eSafety Commission for additional assistance.
Finally, as parents we need to be good role models. It is important that our kids see that we can stay respectful online when upset, that we don't share hurtful or harmful photos and can manage our technology by turning off. With ever increasing access to the internet, digital safety is now as important as road safety. The great news is that if we teach our kids these skills from a young age and respond if something goes wrong, we can help them to not only survive the digital world but to thrive in it.
This article was originally published in The Courier Mail as 'Children need adults plugged in, switched on' on 18 February, 2018.