The teen years are an important time, as it's during this period that your child starts to discover who they are. Having positive role models in their life gives your child people to look up to and strive to be like. Whether it's their values, behaviours or skills, your teen will be influenced by the adults in their life.
As a parent, you can model positive behaviours to your teen. You don't have to do it all yourself, though – so, it's helpful to think about ways your teen can form connections to other trusted adults.
Here is Kylie's story of how she found role models for her son.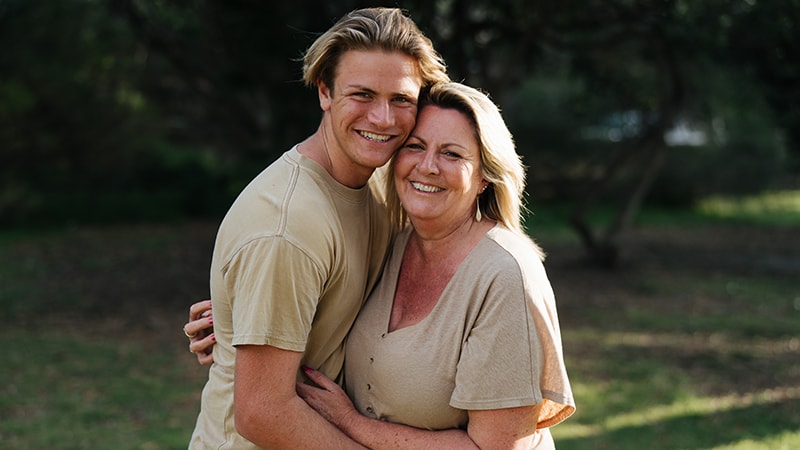 Jarrod, 16, and his mum Kylie have a close bond.
Finding role models for Jarrod
Kylie is a single mum to three kids. She has a close bond with Jarrod, her youngest child, who is in Year 10 at school. He's an active member of local youth and Aboriginal men's groups, and is also doing work experience as a mobile mechanic and in neuro-linguistic programming therapy.
Jarrod has built a mentoring relationship with a colleague of his mum's, Clarence. Clarence is someone Jarrod looks up to, enjoys talking to and really respects.
When he was in Year 8, Jarrod saw an Aboriginal dance performance at a high school event. An Aboriginal elder known as Uncle Ged approached him and asked whether he would like to dance with the group.
The next year, Jarrod performed with the dancers in front of his whole school. It was his first real exploration of his Aboriginality. As 'incredibly nerve-wracking' as it was, the experience inspired him to learn more about his culture. 'It changes your life; makes you change the way you act and speak,' he said.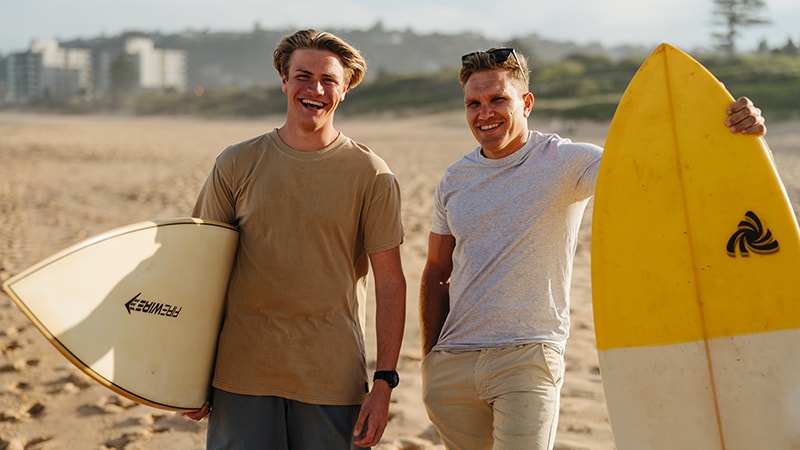 Jarrod and Clarence, along with other members of their community group, are often involved in activities such as mental health weeks, surfing trips and Aboriginal dance.
Building connection to culture
Kylie had gotten to know Clarence through community events and work activities. While Clarence had met Jarrod at some community gatherings, he really got to know him when Kylie mentioned she was looking for a mentor for her son. Clarence had mentored a few other young men in the past and said he was 'more than happy to spend some time with a young fella.'
Growing up, Clarence and a few mates found that connecting with their Aboriginal culture was a great way to deal with everyday issues. They wanted Jarrod to be able to have this experience as well. They used what they had in common – their culture and the Aboriginal men's group – to start talking to and spending time with Jarrod.
Each of the men has a different story and different ways of relating to Jarrod. They give him a safe space where he feels he can talk about anything, knowing that they have his best interests at heart. 'We're literally brothers,' said Jarrod.
His role models have also given him some new perspectives. 'It's changed my relationship with my mum – they taught me about respecting women. It was really powerful.'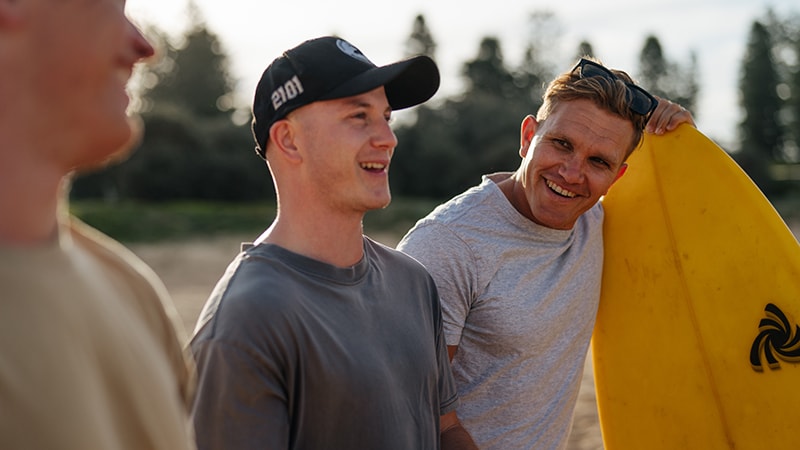 Jarrod, Angus (middle; another of Jarrod's role models) and Clarence recently attended a Corroboree in Wollombi, NSW, with 160 boys and men from different mobs around NSW.
Over the years, Clarence has learnt some of his most valuable skills and values from people around him, and he wants to give back and support others. 'It's the core of Aboriginal culture: to look after each other – Aboriginal or non-Aboriginal. I think it's one of the best values we have.'
Clarence and Jarrod have had their ups and downs as they challenge each other to grow, but the two have developed a brotherly relationship. Clarence's bond with Kylie has also grown. 'I'm pleased to have such beautiful people I can call friends and family,' he said. 'Kylie is a great mum who works hard for her children and has so much love for everyone. She gives so much to the community and the younger generation.'
Kylie describes her parenting style as giving 'enough rope' to guide her children while allowing them independence, but also knowing when to pull back. 'I can't force my kids to be engaged with our [Aboriginal] culture. I can only guide and encourage them. They have to approach it in their own time.'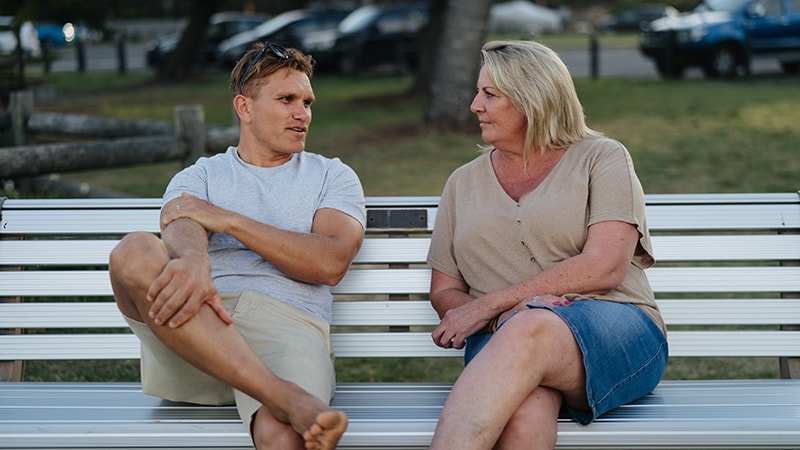 Clarence and Kylie met through the NSW Aboriginal Education Consultative Group.
It takes a village/mob
When it comes to Clarence and his mates being there for Jarrod, Kylie talks to her son about what she's asked his mentors to help him with. Whether it's talking to him about a tough time at school or teaching him about their culture, there's a lot of transparency. Kylie wasn't always comfortable with asking for help though, and it took time to get to this point.
'As a single mum, I feel like I have to put on this front and do everything. I'm learning to be okay with myself, and okay with asking for help and being vulnerable.'
Kylie might not have known exactly what she was looking for in role models for her son, or even that she was looking for role models at all. What's important, she thinks, is that they need to 'fit' – have a connection of some sort, through their interests, culture or values. Getting involved in the community around her and meeting many different types of people has allowed her to form lifelong connections.
'I'm learning to let go; don't try to do it all. When things are getting too much, reach out and ask for help.'
If you need urgent support or want to have a yarn with someone who can support you, call 13YARN (13 92 76) to speak with an Aboriginal and Torres Strait Islander crisis supporter.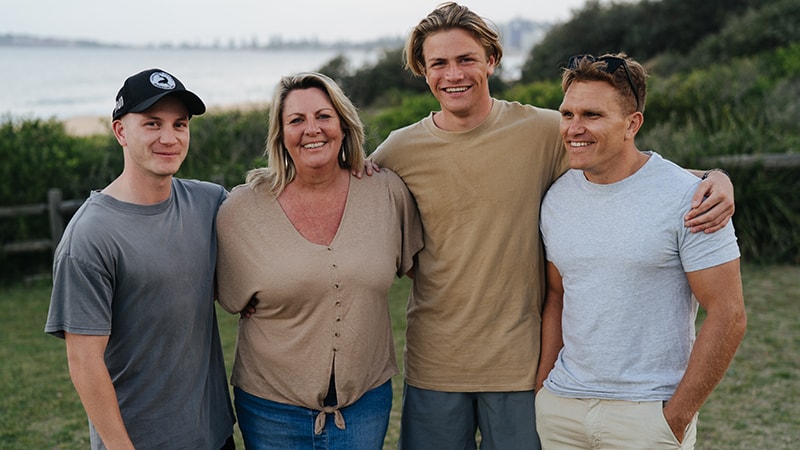 Angus, Kylie, Jarrod and Clarence connected through their shared culture and have formed lifelong bonds.
Did you find what you needed?