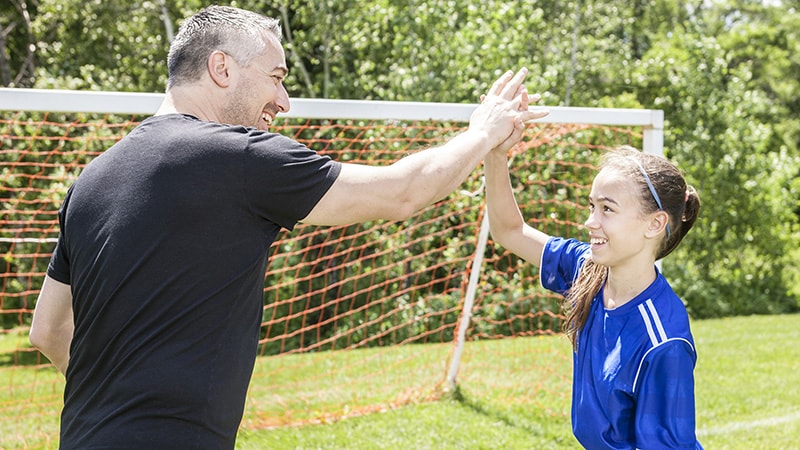 This can help if:
you're worried about your teenager's dependence on their screen
you want to inspire your teenager to be more active
you want to help your teenager to take up more activites
It's likely that your teen is a bit obsessed with their device and may even be head down looking at a screen right now. But to be fair so are you. Screen time gets a bad rap but isn't bad if it's balanced with activity. And being active is a feel-good habit that, once you get into it, can remain a habit for life. Here are different ways to help get them into it.
Start playing sport
Playing a team sport has heaps of benefits; learning to work towards a shared goal, having other's backs, and camaraderie that forges lifelong friendships. You can find teams to join in lots of sports. check out what's on at the local community centre and at school.
Alternatively, your teen might prefer a solo sport like martial arts, swimming or running. You can join a club or class with these ones or just wing it, remember YouTube has tutorials for everything!
Playing a casual game with friends
Rather than sitting around on the weekend inside encourage your teen and their friends to have a game of backyard cricket, throw a Frisbee around, go for a kick around in the park, or play a game of handball in the street. Having a basket of relevant equipment at the front or back door might encourage your teenagers to grab one when they head out with friends.
Getting into personal fitness
Some people prefer solo active time and there's plenty of options for that. Get them on to the 7 minute work out, couch to 10K, or find out about concession rates at local gym classes. There are different levels that are doable, even for beginners and teens on a tight budget. Look for the free apps and outdoor gyms in your area.
Gaming with active apps
Not all screen time is sedentary time! VR and AR technology is exploding and bringing with it some creative, and active, takes on gaming. From Wii Fit and Pokemon GO to Zombies, Run! and Just Dance your teen can get both their mind and their body moving.
Enjoying active leisure
From parkour to ultimate frisbee, biking to snorkeling there's a world of active fun stuff out there. Whether you live in the town, country or by the sea, check out the indoor and outdoor activities nearby that are cheap to do or free.
Going places under their own steam
Walking and cycling is better for the brain than being stuck in traffic or waiting for the bus. If it's practical encourage them to pick up this healthy habit.
Remind them of things they used to like
It's really natural for teenagers to chop and change what they're interested in. In fact, we all do it! Try and remember active things your teenager liked when they were younger and find ways to remind them they had this interest or help them get into things that fulfill a similar interest.
Make family time active
Instead of always spending family time in front of the television make a point to get outside or away from screens for the time that you spend together. Things like hiking, camping, card games or heading to the beach may seem a little old school, but you'd be surprised how many teenagers still enjoy these sorts of activities.
Feeling a little overwhelmed with how to make all this happen for your teenager? Here are three tips to help you along the way!
Car pool: Connect with the parents of your teenager's mates and suggest a roster that shares the lifts to venues around. You'll feel a little less like a tax driver plus it's better for the environment
Watch out for bargains: Some of the active hobbies we've suggested require money. However, often there's an initial cost for some kit and then that's it. Use eBay, Gumtree, op shops and council pickups in your area to search for things like bikes, balls and boots. These sorts of things don't have to break the bank.
Lead by example: Role modelling can be pretty powerful so make sure you're not glued to a screen 24/7. You can even admit to your teen that it's a problem for you too and suggest you tackle it together. That way they won't feel like they're being singled out for their screen use.
Did you find what you needed?