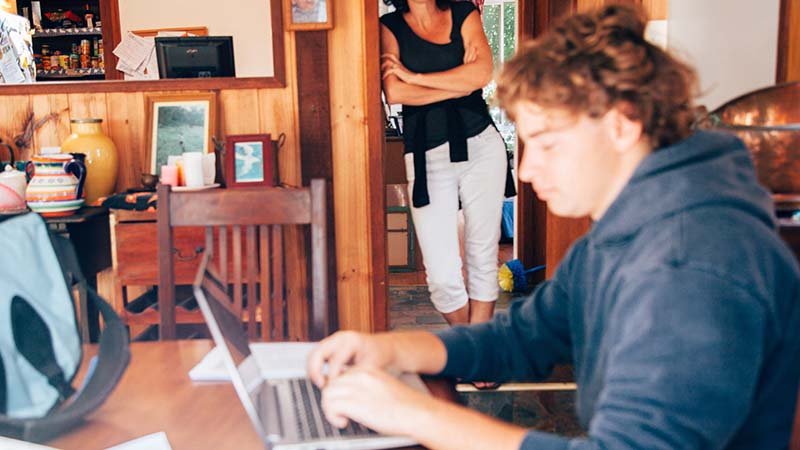 When a parent recognises a teenager needs help, they're more likely to get it. That's why we've introduced a new service to help parents help teenagers.
Right now, 1 in 4 young Australians are living with a mental health difficulty. But there's an even bigger problem: 70% of those who need help don't get it, and suicide remains the leading cause of death for young Australians aged 14–25 years. That means more young people die by suicide each year than by road accident, cancer, or acts of violence. The good news: we can change this.
The majority of mental health difficulties start before the age of 24, and we know that parents are one of the first places that young people turn to for support and information.
On this site you will find fact sheets, stories, practical tips and tools covering a range of topics, issues and experiences that are relevant to teenagers aged 12–18 years. We've got an online community forum where you can talk to other parents about your experiences and work through your concerns in a safe, anonymous environment. And we have launched a free online coaching service that will help you achieve an effective and positive relationship with your teenager.
The aim of ReachOut Parents is to help you:
develop and maintain secure and stable relationships with your teenager by learning more about what they might be experiencing or issues they might be going through
support your teenager and teach them how to seek help and work through issues independently
learn about mental health issues that often have their onset during adolescence, including what to be aware of, and how to get help for your teenager if and when they need it
improve the wellbeing and resilience of your whole family.
The information on ReachOut Parents is based on the latest research evidence and was developed in conjunction with our internal research team and sector experts, where appropriate. We also work with a diverse team of clinicians who advise us on best practices in mental health service delivery. Meet our Clinical Advisory Group.
Read more about the launch of ReachOut Parents
Co-designed with Australian parents
To ensure that ReachOut Parents is relevant, meaningful and engaging for its end users – you, the parents – we involved more than 1100 parents from across Australia in focus groups and follow up interviews, co-design workshops and prototype testing as we developed the service. We asked these parents a range of questions including which issues they would like more information about, how they use technology when seeking help, and how they wanted the support and advice presented to them.
In designing ReachOut Parents, we also spoke to young people to find out how they wanted their parents to help them.
Read more about the research behind ReachOut Parents
Behind the site – who is ReachOut Australia?
As Australia's leading e-mental health service for young people, we've been helping 14–25-year-olds cope with everything from everyday issues to tough times since 1998. We work alongside young people to deliver online tools that address youth mental health and youth suicide directly into the hands of the people they have been developed for.
Our flagship service – ReachOut.com – receives more than 110,000 visitors each month (that's more than 1.3 million Australians each year).