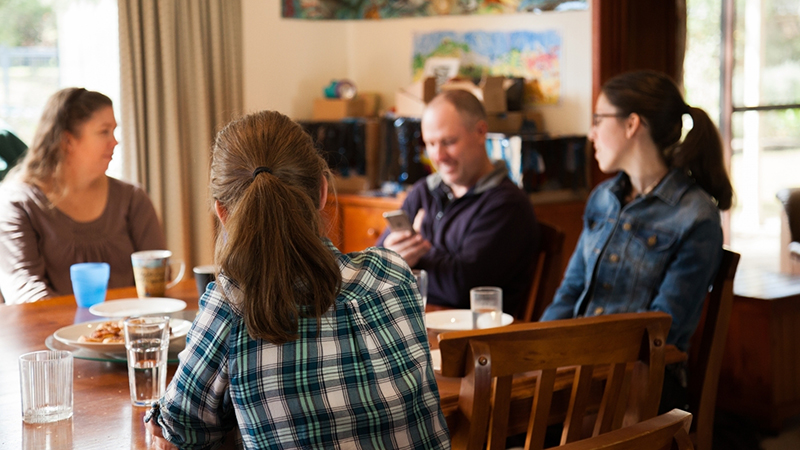 - Written by Jono Nicholas, CEO of ReachOut
When my first child was born, I expected to feel unbridled joy, just like the books told me I would. Instead, I had an overwhelming sense of relief that my wife and baby were safe, and more than a little fear as to what would happen next. Almost 10 years and two children later, those feelings remain the same.
Despite a degree in psychology, and 20 years working for frontline youth mental health service ReachOut, I am continually struck by how parenting never gets easy. In fact, as the first generation of parents to raise our kids in the digital age, we are making up many of the rules as we go along. While some of the situations we face – such as cyberbullying and regulating time on social media – are unique, the basic building blocks to raising children haven't changed.
First, our most important job is to ensure our kids are safe, well and happy – in that order. While our children's happiness is important, this should only be pursued once we are sure they are safe and well.
Second, there is no upper limit to the number of times we let our kids know they are loved and valued in this world.
Third, all kids hate rules but need them to be safe and well. Applying those rules consistently and in a predictable way is one of the most important things we can do as parents.
Fourth, kids understand numbers better than they understand feelings. If you want to understand how your kid is going at any particular time, don't ask them how they're feeling, ask them "on a scale of one to 10 – where 10 is the best and one is the worst – what's your number?" Do this on a regular basis and you will all have a trend line on how they are doing.
Finally, family rituals are important. The easiest ritual is to have at least one family meal a week that trumps all other events. This may be a Friday night dinner, a Saturday breakfast or a Sunday roast. As your kids grow up and your lives become busier, these rituals become more important to stay connected. The most important thing to remember is that all parents screw up some of the time!
If our kids know they are loved and supported, then one shouting match won't be the end of the world. You have more than one "get out of jail free" card and, if your family is like mine, you will use them all.
This article was originally published in The Courier Mail as 'Don't expect to ever pass with flying colours' on 11 February, 2018.